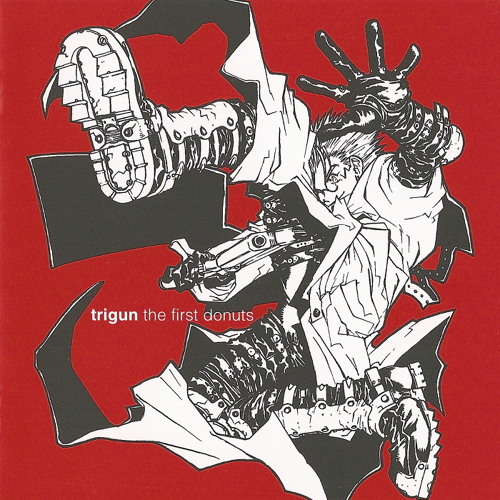 Hey Bit-munchers!
Original sound tracks are a beautiful thing, especially when they are pulled off in such a way that they complement the film while simultaneously being able to stand on their own as a dang good piece of work.  As a music lover, I have a certain soft spot for OST, especially this one.
We're talking Japanese composer and guitarist Imahori Tsuneo and his fantastic work on the anime Trigun.  Imahori also worked on the Gungrave, Gungrave 2, Hajime no Ippo and Trigun Badlands Rumble soundtracks and to a lesser extent Texhnolyze, Wolf's Rain, and Cowboy Bepop.  He also composed and/or played guitar in the bands Tipographica, MEATOPIA, and The Seatbelts.
Trigun, written by Yasuhiro Nightow, is my one of my top favourite anime and is the first series that I completed.  I'm also reading through the manga, and the intense face of Nicholas D. Wolfwood is staring at me from the cover of Trigun Maximum Omnibus 2.  Lest I fill this post with nothing but praise for the show or the novel, check out this video, narrated by none other than Jeff Nimoy, for more information.
Back to the music.
Trigun was released in Japan in 1998 and Imahori's soundtrack was released the same year.   The album mainly features the most jazzy of guitars, the most bluesy of saxophones, the most raging of bongos, and the occasional delicate flute.  The chaotic but calculated music paired with intense jazz really pulls the western feel together.  While much of the music is lighthearted and fun, tracks like 'Perfect Night' remind you just how terrifying the villains are.  I'd have to say that the soundtrack is crafted to fit perfectly with the hot dry sand on the planet Gunsmoke as we follow our care-free hero on his quest for love and peace.
Below check out some links for a taste of this delicious music!
This is According to Hatchet, thanks for being here!
Tipographica Highway as a Samurai Play | Tipographica King's Golden Toilet | MEATOPIA Counterattack | The Seatbelts Tank! | H.T. | Red Eyes Project Yellow Alert cover