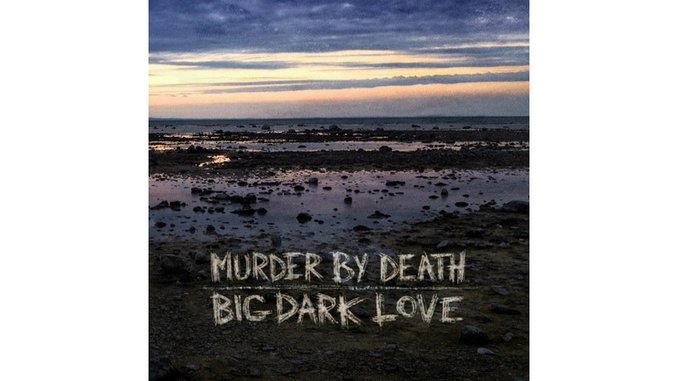 Hello Bit-munchers!  Welcome to a special Thursday edition of According to Hatchet.  This week we will be listening to Murder by Death, everyone's favourite brand of Americana.  At least, my favourite.  Let's get the deets!
Murder by Death was founded in Indiana around 2001 and named after the film of the same name, which I've been told is similar to Clue, so I'm assuming it's highly recommended.  We have Adam Turla on vocals and guitars, Sarah Balliet on cello and keys, Dogan Thogerson on drums and various percussion, Matt Armstrong on bass, and David Fountain on piano, percussion, mandolin, banjo, and vocals.  Here is an excerpt from their biography on their FaceBook page:
'On the surface, Murder By Death is a Bloomington, IN quintet with a wry, ominous name. But behind the geography and moniker is a band of meticulous and literary songwriters matched by a specific brand of brooding, anthem-riding balladry and orchestral indie rock.'
Big Dark Love is MbD's seventh studio album, although they have several cover albums which can be found on their bandcamp page.  I was introduced to Murder by Death a few years ago when I was in college and immediately fell in love with Turla's croon and the cello they incorporated into their music.  The first album I heard was Bitter Drink, Bitter Moon an album full of folky meanderings and lyrics.  For someone who hates country music, I sure do love southern folk/rock/Americana/ect. stuff.  Or really, just southern dudes/gals in general.  When I found out that Big Dark Love had come out last year I was quite peeved I hadn't noticed.  Regardless, this album only continues the quality of music I'd expect from this group.  The opening track 'I Shot An Arrow' immediately draws you in, it's so catchy.  'Natural Pearl' feels like the epitome of folk music and I love it.  I highly recommend this band and all of their albums.
Whoooo.  Well, I've managed to post this on Thursday.  Technically it's still Thursday.  I really need to write ahead xp
This is According to Hatchet, thanks for being here!
[FaceBook | Bandcamp | Website ]